2020 has brought a lot of changes in product, marketing and ad managers routine. First, it was the third party cookies death announced by Google, now - the IDFA deprecation. While the concept of the cookie-less world isn't new at all, the upcoming post-IDFA era became a cause of concern for many  industry players. Most of their worries are related to the opt-in rates fall and the audience loss. But you may also see opinions that this change will make the whole shift in how mobile apps work and make money.

So, what will actually happen? Together with Adjust, we prepared the answers to the most common questions our clients asked us:
▪︎ Is IDFA really so important?
▪︎ How exactly the death of IDFA will affect my marketing initiatives?
▪︎ Are there any alternatives or workaround that can effectively replace IDFA?
▪︎ How can I currently reduce the negative effect of IDFA and stay on top of the game?
1.What exactly is IDFA and how important it actually is?


IDFA - Identifier for Advertisers - is a unique number that Apple assigns to each device for tracking and attribution purposes. It helps the whole mobile marketing world analyze their campaigns efficiency and work with users data. Besides metrics calculation, IDFA is also responsible for ad spend attribution and visualization of each user app behaviour from the first ad click to post-install or purchase actions.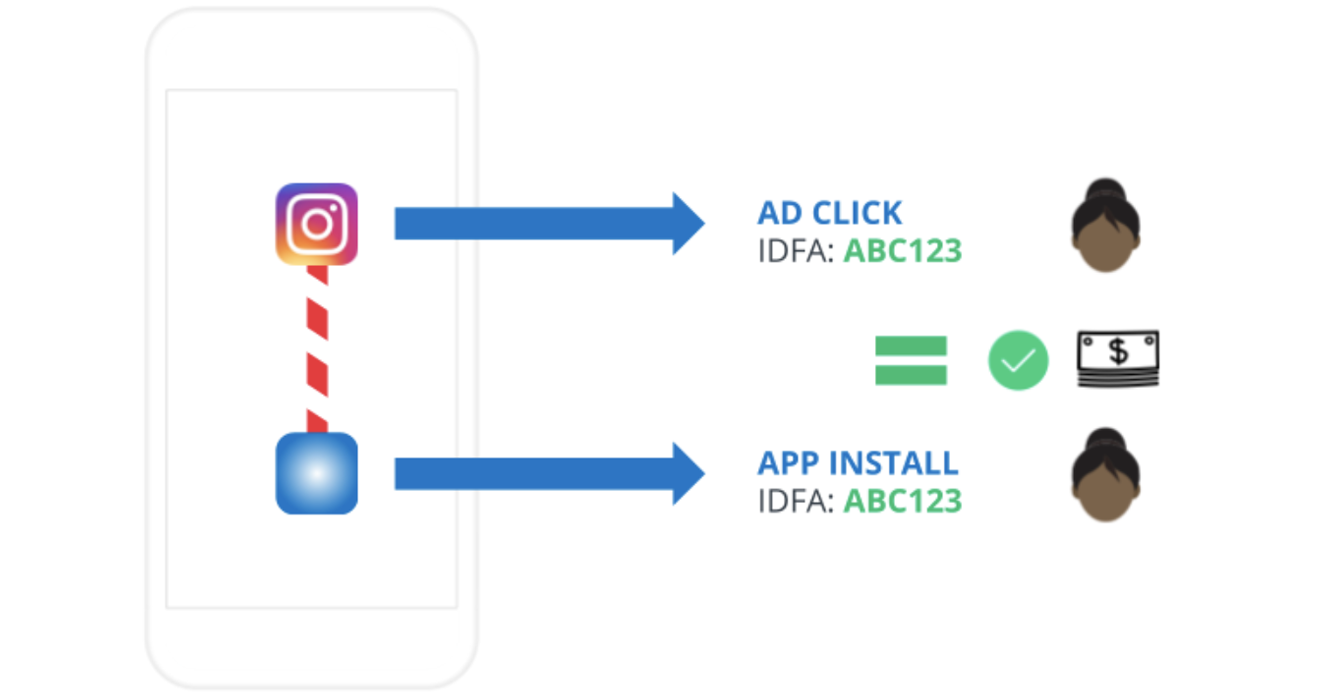 No need to say, that this data helps make better data-driven decisions and improve customer personalization, segmentation, acquisition and engagement. If it's so important, why there was almost no talk about it before, you may ask.
Well, the fact is that before 2020, IDFA was active in all Apple's accounts by default. Since iOS 10, users could Limit Ad Tracking (LAT) at the device level within their app Settings.
Soon it will be hidden in the depth of settings by default. The apps can get access to IDFA only if users opt-in via a pop-up while opening the app. Yes, they will have to do it each time with each new app.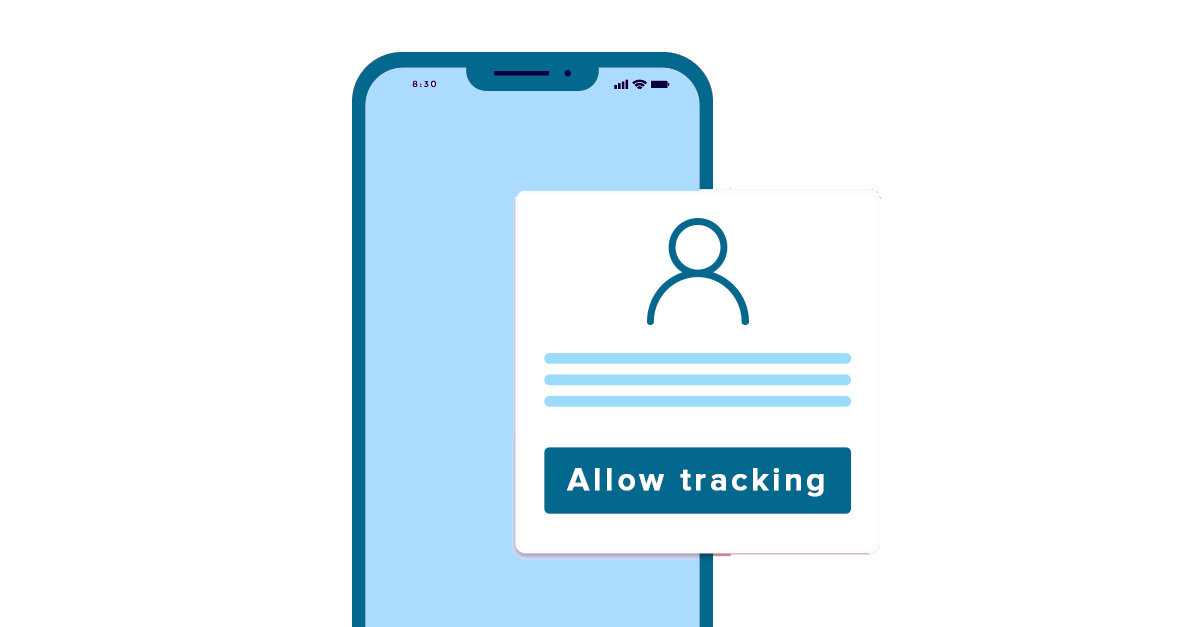 What option do you think the customer will choose more often?
Just so you know, currently 15% of users limit IDFA tracking by themselves. By the most optimistic predictions, their number will increase by 10-20%. 35% audience loss - is it a lot or a little for you?
2. Okay, how else will it affect my marketing campaigns?


As a marketer you should know that just one additional pop-up can easily break the sales flow on which you worked so hard. Besides acquisition funnel, asking users to share their IDFA might have a crucial impact on the following 5 major areas:
1. Attribution
It's mainly attribution that helps marketers understand user reaction to a particular campaign, consolidate relevant real-time data and build reports. As you may have already guessed, the need for IDFA consent will make it significantly harder to determine what gets credit for the final conversion. Along with it, it will cause difficulties in
showing relevant ads to the audience;
providing seamless personalised experience by sending them where they want to be;
Justifying ad spends and keeping the same revenue level.
2. Retargeting
Seems like Device IDs will be disabled by default with no grace period. It basically means that retargeting will be gone along with IDFA. Yes, you can still theoretically retarget users based on non-IDFA identifiers: emails or phone numbers, for example. But how many users are ready to give you this information at the very beginning?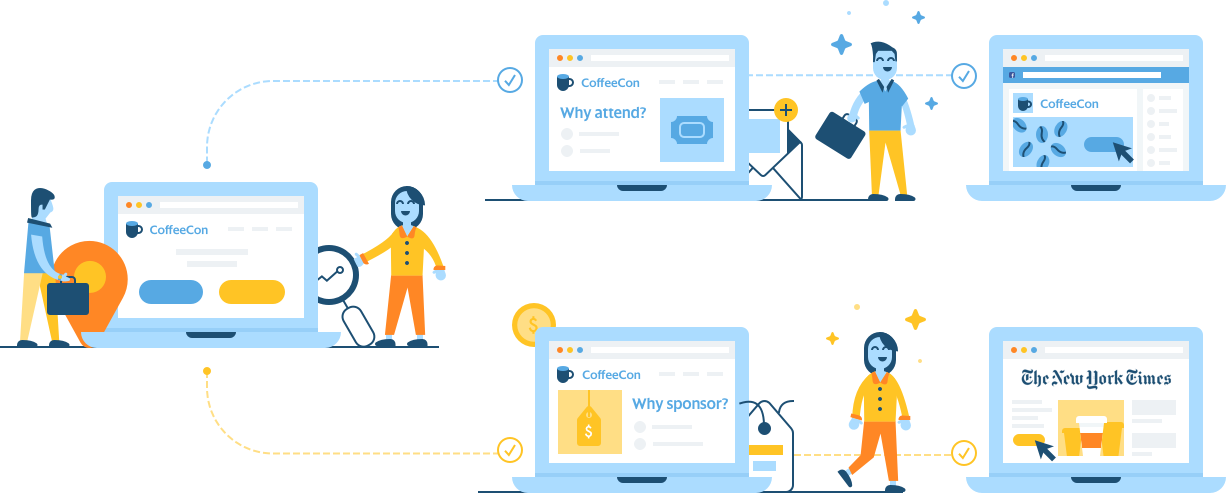 3. Identity management
It will be much harder for big brother to watch us. Previously on, DSPs could made a fortune by creating device graphs and audience profiles using IDFAs. In the world of digital advertising, the data has become the new oil a long time ago. The data has become the new oil in the world of digital advertising. Advertisers used to send them device IDs and post-install events from attribution platforms. DSPs, in their turn, stored all the valuable information about each device for further monetization. Well, without IDFA, difficult time will also come for DSPs.
4. Fingerprinting
Fingerprinting is a technique used to identify people who have interacted with advertising with the help of publicly available characteristics of a particular device. It can be user's IP address, location, device type, local network data, and any other accessible data. Fingerprinting was always a real lifesaver in cases when IDFA wasn't supported by advertising networks. Some publishers hoped to achieve at least 70% of  fingerprinting accuracy on iOS and soften the negative impact of IDFA. But it doesn't seem to be a good plan after Apple claimed fingerprinting will also require user permission.
5. User Onboarding
Now all marketers are trying to come up with creative solutions on how to opt-in users to get the needed data from them. Some companies are considering not allowing customers to use the app until they sign up via their social media account or fill out their profiles. Others are scratching their heads over how to show their apps additional value with push notifications / in-apps to convince users to provide the necessary information. Well, there are actually better ways to make user onboarding more effective in this case.
Making it automated (based on user behavior), cross-channel (emails + push notifications + in-apps), and personalized (i.e. relevant to each customer), so that your users get the most impactful and valuable experience. How to do it? With Customer Journey, you'll be able to build an effective onboarding strategy, allowing you to reach your customers at the right time with the right content and, most importantly, via the channels that work best.
3. Are there any alternatives that can be used instead of IDFA?


Actually, yes. Mobile attribution companies are currently polishing their solutions that will allow them to attribute events without transferring the IDFA off devices. Adjust, for example, came up with three different solutions to support their partners:
Opt-in deterministic attribution using the AppTrackingTransparency framework;
Probabilistic measurement fueled by several non-deterministic signals;
SKAdNetwork as an additional set of data.
Another way to avoid all the IDFA-related issues is to focus on customers engagement experience.  Most cross-channel marketing platforms don't use IDFA to send and track push notifications or in-apps. They stick to behaviour-based marketing concept and build event-based personalised flows that don't require any additional actions from users. Want to learn more about it?
4. How to reduce the negative effect of IDFA deprecation?


Since these measures can harm mobile marketing efforts of many companies, major industry players are offering guides on how to avoid being affected. Here are some essential steps suggested by Adjust and others:
1. Do A Review
It's important that advertisers do a full internal review of how they are currently using IDFA. This will give you a solid understanding of where and how you rely on it in your marketing, and how your efforts can lose efficiency without it.
Look at which SDKs are calling on the IDFA (which MMPs or networks? How do your CRM platforms and other software rely on it?). Make sure to also talk to each of your SDK providers to hear about their solution for IDFA requests on iOS 14.
NOTE: Pushwoosh SDK uses IDFV as the device HWID, so your audience and campaigns are safe with us.
2. Customize Your Opt-In Request
Getting user consent for IDFA use should be your next priority. If users keep opting in, you'll be able to keep your activity on pre iOS 14 level. Besides, it can become a real competitive advantage to have high opt-in rates. Obviously, that means a lot of work on the consent mechanic and message, and it will likely take some trial and error to get high opt-in rates. It's better to start running your tests now.
As of today, we know that some parts of your opt-in message (shown below) can be customized. However, in the future Apple can potentially create even more opportunities for fine-tuning your request.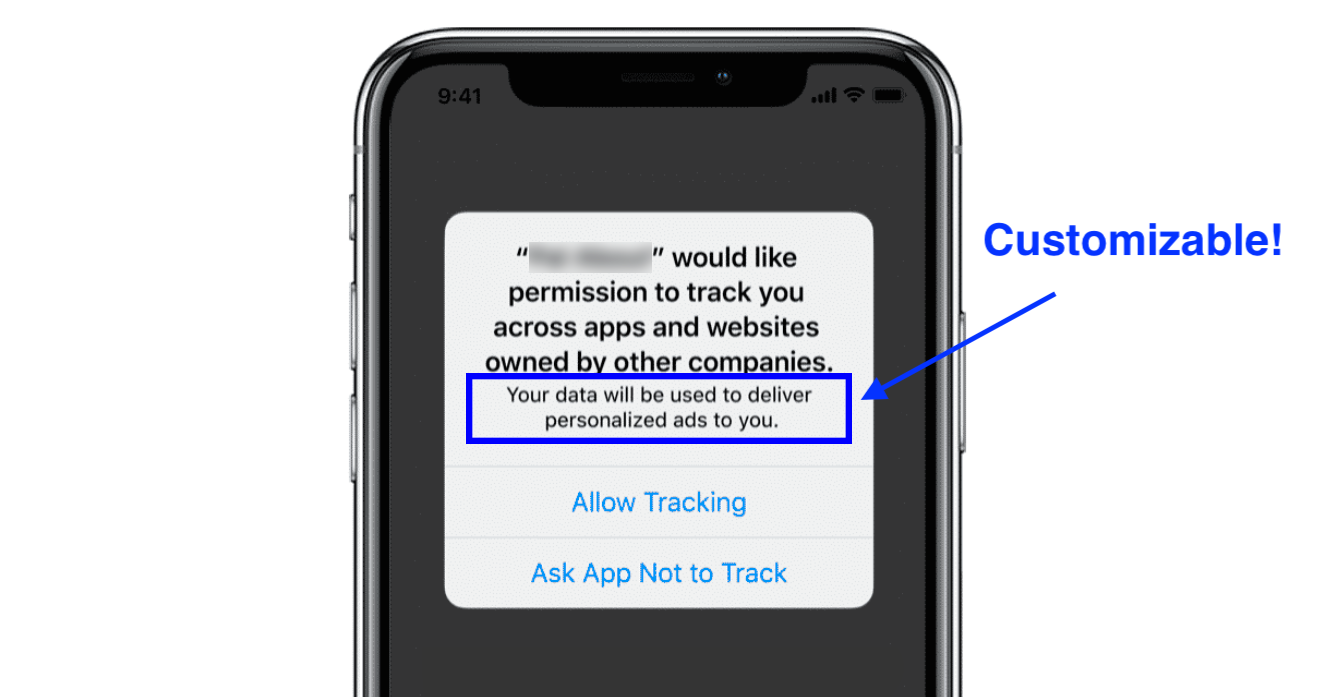 NOTE: You can also experiment with when exactly to trigger the request delivery, as showing it right from the app start might be not the best idea.
3. Work With User Retention
Obviously, the changes are also going to make user acquisition even more difficult and expensive. It's common knowledge that acquiring a new customer can cost five times more than retaining an existing one — and now the situation is getting even more complicated, because targeting your potential customers is not as easy anymore.
Now is the great time to diversify your re-engagement options — whether through push notifications, emails, SMS etc — as well as focusing on the right mechanisms to collect consent for these options.
4. Re-evaluate Your BI Stack
The IDFA privacy measures will surely impact how your BI stack works. Don't forget to look into what different data sets are stitched together for your analytics and think about how you can continue to stitch together this internal data after iOS 14 release. Some good options include focusing on the IDFV, ADID (your MMP unique identifier) and the UserID (your internal ID if it's being used across your entire mobile marketing stack).
Apps working without the IDFA will still be able to place contextual ads, but they will no longer place personalized ones. It can cause revenue drops by various percentages, as personalized ads are worth much more. It's better to prepare for what should happen as a reaction to these changes.
5. Discuss Planned Measures With Partners
Talk with your marketing partners and align on IDFA use in their targeting strategy. A good marketing partner should leave you coming away with a solid expectation of how they are preparing for the change, specifically when it comes to lookalike audiences, re-targeting, re-engagement, white-and blacklisting, and seed audiences. The same can be applied to monetization networks.
Conclusion

Numerically, iOS accounts have fewer app installs than Android, but iOS users are more valuable and spend about 2.5 times more money. That's why ignoring the upcoming changes is a mistake many businesses can't afford. To minimize the negative effect of IDFA deprecation, it's crucial to start acting now. Pushwoosh is always ready to share insights and offer ways for your apps to adapt to the changes successfully.
Request a free demo with our experts, and find out more about how your mobile app can deal with the updates in the best way: