Good news, everyone!
It's finally here. Today we present a Pushwoosh WordPress Plugin, which lets you send push notifications along with new posts and pages published on your website.
As always, it's all very simple. You need to do is to download the plugin directly at
http://wordpress.org/extend/plugins/push-notifications/
After you install and activate the plugin, you need to add your Pushwoosh Application Code and your API Access Token in the Plugin Settings page: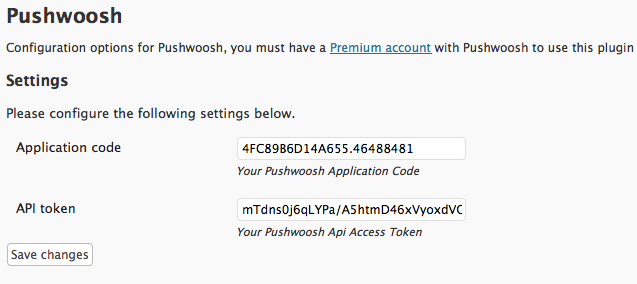 That's all! Now you are ready to send push notifications with WordPress. How does it work? It works like a charm.
In the Add New Post or Add New Page section you will see the following field right above the Publish view: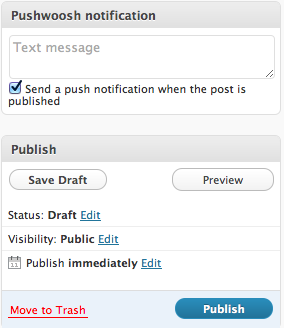 You can enter the text to be sent as a push notification when this page is published and make sure that you have checked the option to send your message.
If you save your page as a Draft, your message will be saved as a part of it, and you can decide whether you would like to send your push notification later.
If you have a Cron script that allows you to publish your pages as Scheduled, the push notification will be sent along with the scheduled page.
Do you still have questions? Feel free to contact us!
Your Team
** This plugin uses our Remote API feature, that is why you need to be on the Premium account (or higher) to use it.*