Great news, everyone!
Just recently we hit you with our release notes, our new features and a new (well, good old new) platform. Do you really think it is all that we've got?
The weekend is going to be hot here at Pushwoosh, and you will get all the latest news. Today we start with a fancy one: your very personal message.
Our motto is "Your App Can Talk", and now the conversation is taken to the whole new level. Not only you know that John D. is playing you game, or shopping on your website, but you can properly greet him, while inviting him to drop by or revisit the app. Naturally, when you meet someone who is eager to talk to you after it's been a while, you want them to call you by the name, not just offer an awkward handshake. When you walk into a local store that you visit daily, or hang out in a pub (today is Friday, after all), it is always welcoming to be greeted in a personal manner. Yes, that's exactly how some of those bartenders get such great tips!
How does it work? All you need is to decide which of your current Tags to use, and we will do the rest. For instance, you have a Tag called "name", or "alias", you can use it while addressing your users. If you have a tag that indicates a level in the game, or the amount of gold earned, you can use it as well. TV channels, team names, school names, local currencies can all fit nicely into the message and add a personal touch that indicates accurate and relevant information behind your push.
Yes, it is available via Remote API, and we have created a simple menu in the Control Panel that handles your dynamic content. You will find it right next to the usual text field, so that you could customise your push in a couple of clicks.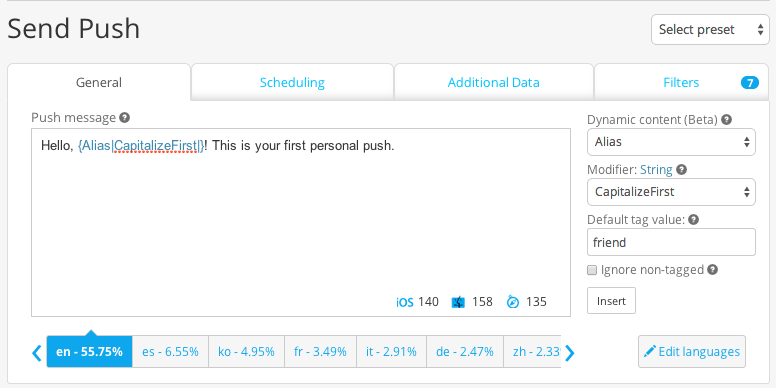 If you are using names in the content, it might be a good idea to capitalise the first letter. If you are in doubt whether all of your users are properly tagged, you can add a neutral default value, which will be used for those who are left out. If you believe that the message needs to be targeted precisely, and you'd like to skip those who cannot be identified, you can select the "Ignore" option.
That's it! Your very first message with dynamic content is ready. Getting personal with your users is easy, isn't it?
Right now this feature is in beta mode and available on Gold/Platinum accounts only. If you are not yet ready to upgrade, but still interested, you can always [contact us](http://www.pushwoosh.com/contact-us/) for the test access!