What are in-apps?
In-apps are messages that pop up on a user's screen while they are using your app. Such messages don't require prior user consent (or opting in). Delivery based on user behavior in the app ensures that in-apps are always relevant and engaging.
Why use in-app messages?
In-apps are commonly used to introduce and showcase new features, onboard users, promote special offers, deliver service messages & subscription requests, collect app reviews, conduct marketing surveys and more.
Example 1: Onboarding
A new user has just installed your app. Show them around and explain the basics with the help of colorful and relevant in-apps that pop up as soon as a user opens a certain page. Navigate them inside the app towards making their first in-app purchase.
Example 2: Promoting Offers
A user of your online store app has just opened the "summer essentials" category. Let them know about the discounts they can use right now with the help of an in-app, which will draw their attention and send them to the right page inside your app, increasing the chance of a new purchase.
Example 3: Upsell
Someone's just reached a new level in your game. That's a great moment to remind them that they can achieve even more if they buy better armor, isn't it? Go ahead and send the message, showing the beautiful weapons they can have!
Example 4: Increasing Opt-In

Pushwoosh studies your users behavior and knows their preferences. This allows you to launch highly relevant push notifications subscription requests and talk about how pushes will update your users on what's most important to them. It's very likely they'll get interested and subscribe. Learn more about how you can gain more push subscribers with in-apps.
Combined with push notifications, in-app messaging allows reaching up to 100% of your userbase. High relevancy of in-apps results in more conversions and more revenue for an app publisher.
Out-of-the-box in-app messaging
Pushwoosh allows using In-App Messaging without any coding! Integrate our out-of-the-box In-App solutions into your marketing campaigns with one click.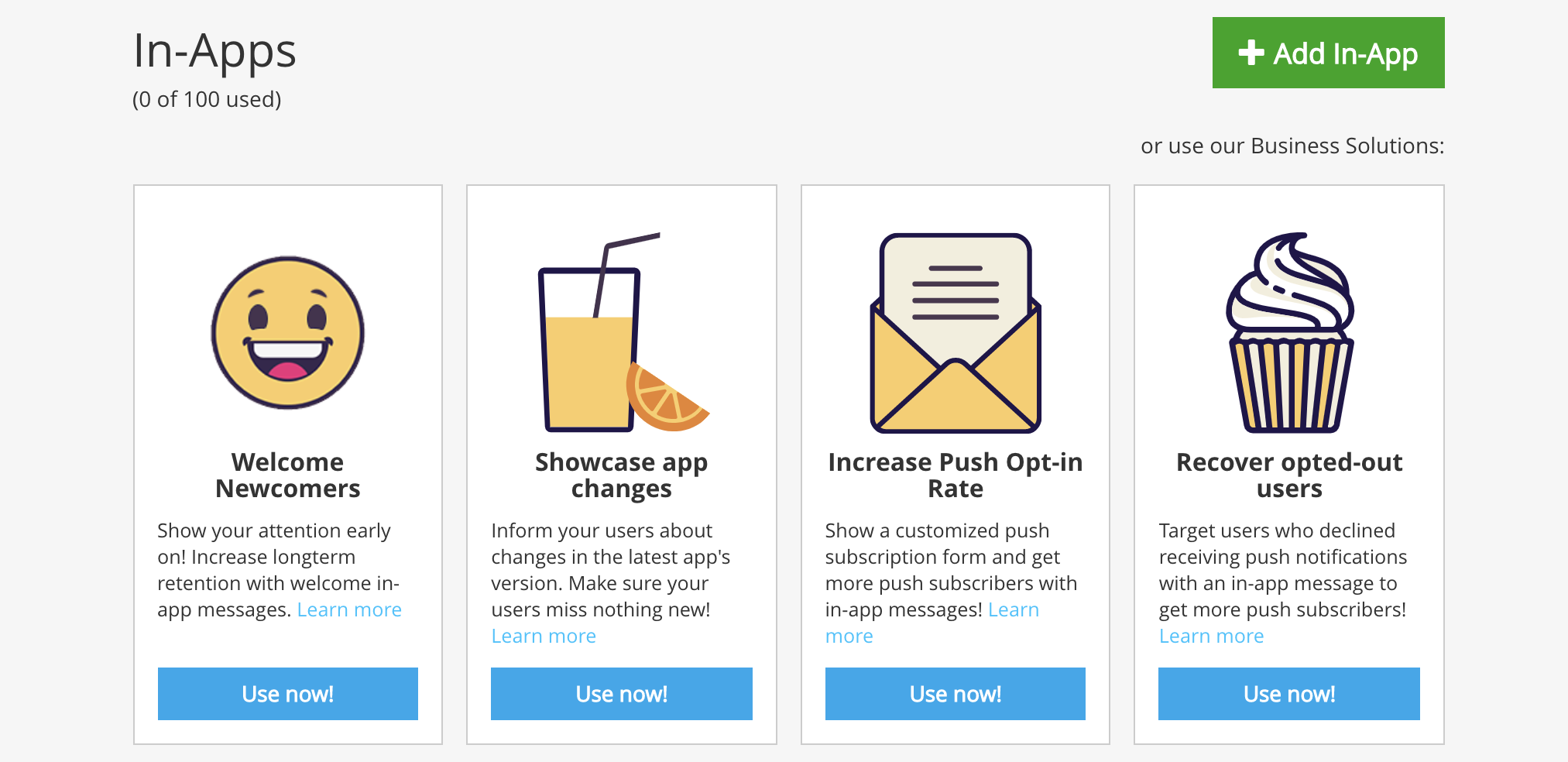 Just pick one of the ready-made In-Apps on the corresponding tab in the Pushwoosh Control Panel. You don't have to set up targeting and scheduling rules, just save the In-App and that's it!
Ready to get started? Try Pushwoosh In-Apps for free!